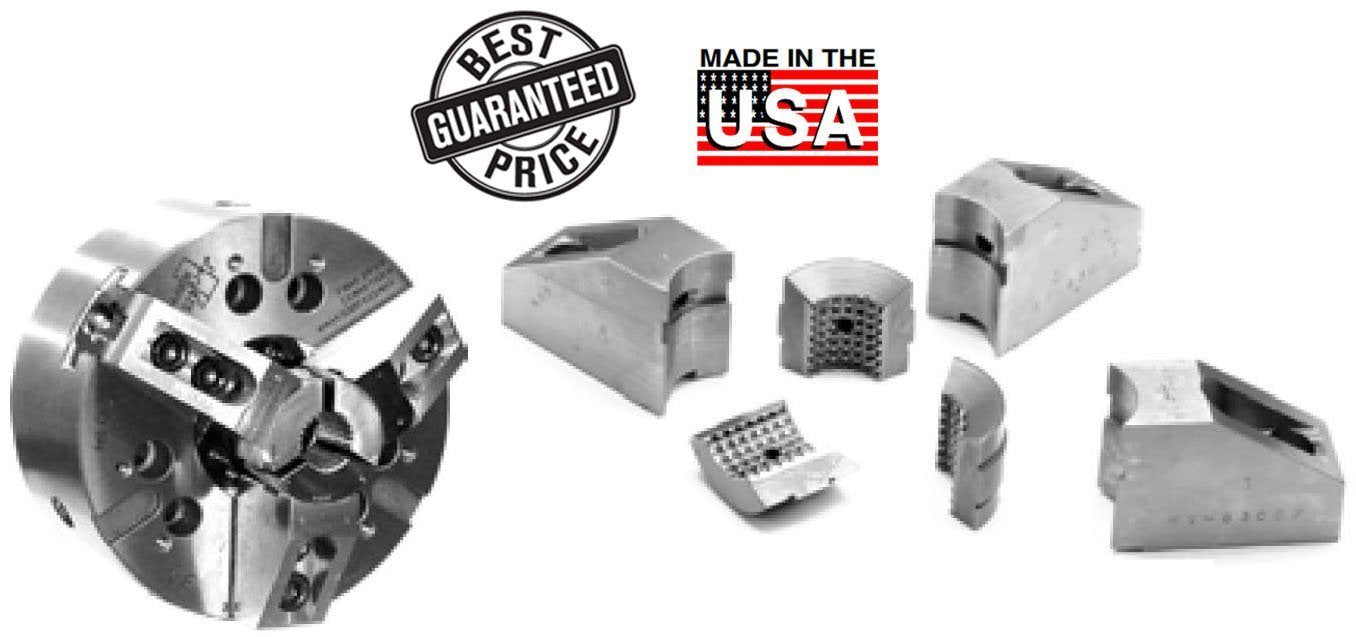 For precision workholding, Top Jaws for collet pads are designed to mount directly onto your power or manual chuck. Using Top Jaws offers an economical, convenient way to increase your chuck capacity. Top Jaws are Quick Change, mounting in minutes.
Collet Pad Top Jaws can be configured to fit most 3 jaw chucks that use soft top jaws, regardless of the lock type (Serrated or American Standard).

Please call if you do not see your chuck listed below.
Helpful Hint:
A fine boring cut of 0.030", when collet pad top jaws are installed for the first time on your jaw chuck, easily prepares the collet pad top jaws for high concentricity operation for years to come when loaded on the same master jaws.
To order any of these items enter the Part Number into the search bar above. (This will take you to the product page where you can add the item to the shopping cart)
Critical Dimensions
Chuck Size
Chuck Make & Model
Groove Width
Screw Size
Hole Space
Warner
Swasey
Collet Pad #
Max Round
Collet Pad
Capacity
Collet Pad
Top Jaws
Part Number
Price
Displayed
In Cart
6"
KITAGAWA - B-206, B-06; HOWA 6
0.472
M10
0.787
3
1.5"
CPJ-KT0600WS3-Y
-
MMK (Matsumoto) - HA_-6, ZA_-6
0.433
M8
0.985
3
1.5"
CPJ-SG0600WS3-Y
-
8"
KITAGAWA - B-208, B-08;
MMK (Matsumoto) - ZA_-8, HA_-8
0.551
M12
0.984
3
1.5"
CPJ-KT0800WS3-Y
-
4
2"
CPJ-KT0800WS4-Y
-
5
2.5"
CPJ-KT0800WS5-Y
-
8" NIKKO
0.551
M10
1.181
3
1.5"
CPJ-SG0800WS3-Y
-
4
2"
CPJ-SG0800WS4-Y
-
10"
KITAGAWA - B210, B10;
MMK (Matsumoto) - ZA_-10, HA_-10
0.630
M12
1.181
3
1.5"
CPJ-KT1000WS3-Y
-
4
2"
CPJ-KT1000WS4-Y
-
5
2.5"
CPJ-KT1000WS5-Y
-
6
3"
CPJ-KT1000WS6-Y
-
10" MMK (Matsumoto) ON HITACHI SEIKI CNC
0.630
M12
1.250
3
1.5"
CPJ-SE1000WS3-Y
-
4
2"
CPJ-SE1000WS4-Y
-
5
2.5"
CPJ-SE1000WS5-Y
-
6
3"
CPJ-SE1000WS6-Y
-
12"
KITAGAWA - B-12, HO-12;
MMK (Matsumoto) - ZA_-12, HA_-12; HOWA - HO15M12
0.709
M14
1.181
3
1.5"
CPJ-KT1200WS3-Y
-
4
2"
CPJ-KT1200WS4-Y
-
5
2.5"
CPJ-KT1200WS5-Y
-
6
3"
CPJ-KT1200WS6-Y
-
KITAGAWA - B-212
0.827
M16
1.181
3
1.5
CPJ-KT1208WS3-Y
-
4
2
CPJ-KT1208WS4-Y
-
5
2.5
CPJ-KT1208WS5-Y
-
6
3
CPJ-KT1208WS6-Y
-
15"
KITAGAWA - B-15
0.866
M20
1.690
3
1.5
CPJ-KT1500WS3-Y
-
4
2
CPJ-KT1500WS4-Y
-
5
2.5
CPJ-KT1500WS5-Y
-
6
3
CPJ-KT1500WS6-Y
-
KITAGAWA - B-215
1.005
M20
1.690
3
1.5
CPJ-KT1508WS3-Y
-
4
2
CPJ-KT1508WS4-Y
-
5
2.5
CPJ-KT1508WS5-Y
-
6
3
CPJ-KT1508WS6-Y
-